Biomateriais, Nanotecnologia e Medicina Regenerativa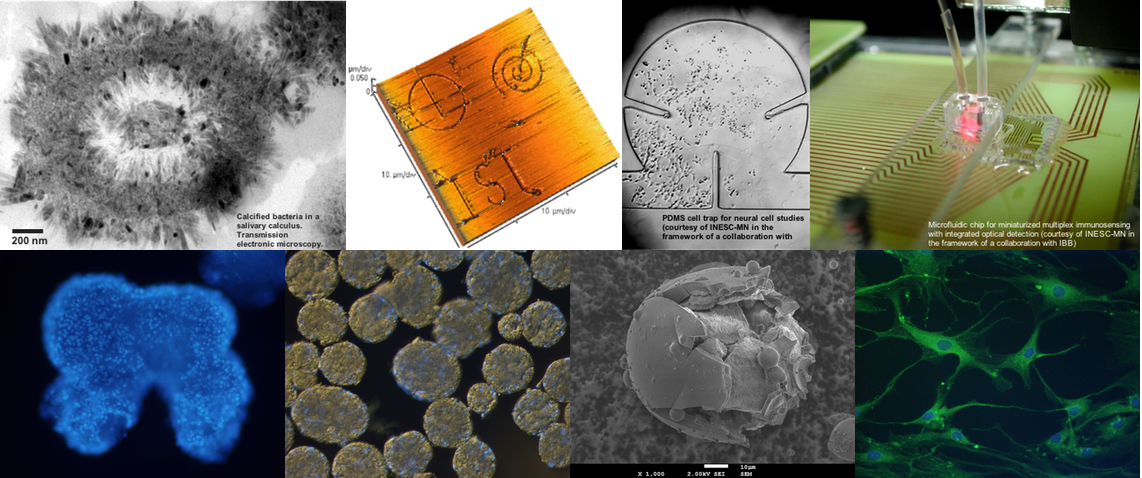 Overview
This scientific area integrates a set of technologies which have as a common point the controlled interaction, at the micro and nanoscale, of complex artificial constructs with biomolecules, cells and tissues. High impact applications in biotechnology and medicine are the goal, in particular in the development of novel strategies for biodiagnostics and regenerative medicine.
Biomaterials
Although biomaterials are primarily used for medical applications, they are also used to grow cells in culture, to assay for blood proteins in the clinical laboratory, in processing biomolecules in biotechnology, for fertility regulation implants in cattle, in diagnostic gene arrays, in the aquaculture of oysters and for investigational cell-silicon "biochips." The commonality of these applications is the interaction between biological systems and synthetic or modified natural materials.
Nanotechnology
The engineering of functional systems at the molecular scale. Nanotechnology is the understanding and control of matter at dimensions between approximately 1 and 100 nanometers, where unique phenomena enable novel applications. Nanobiotechnology consists on the application of nanotechnology concepts to bioengineering and biological sciences, in lab-on-a-chip systems, novel biosensors, nanoparticles for drug delivery, surface functionalization, etc. Bionanotechnology consists in the translation of biological concepts for engineering applications, namely taken from neural sciences, systems biology, biomaterials and biomimetims.
Regenerative Medicine
Regenerative medicine is an interdisciplinary field of research and clinical applications focused on the repair, replacement or regeneration of cells, tissues or organs to restore impaired function resulting from any cause, including congenital defects, disease, trauma and ageing. It uses a combination of several converging technological approaches, both existing and newly emerging, that moves it beyond traditional transplantation and replacement therapies. The approaches often stimulate and support the body's own self-healing capacity. These approaches may include, but are not limited to, the use of soluble molecules, gene therapy, stem and progenitor cell therapy, tissue engineering and the reprogramming of cell and tissue types.
Academic staff
Senior Researchers

 
Joaquim Sampaio Cabral
Contributing for biochemical engineering science through novel developments in Enzyme Engineering, Bioprocess Engineering and Stem Cell Bioengineering
João Pedro Conde
Thin-film MEMS and BioMEMS. Lab-on-a-chip systems integrating nucleic acids, proteins and cells.
Rogério Colaço
Advanced characterization of engineering materials and systems for tribological and biomedical applications, by using Atomic Force Microscopy based techniques.
Patrícia Almeida Carvalho
Advanced characterization of nanostructured materials and mechanical characterization of biological materials at the micro/nano/pico scales.
Cláudia Lobato da Silva
Stem cell expansion and controlled differentiation
Bioreactors for stem cell expansion
Hematopoietic stem cell isolation
Gabriel Amaro Monteiro
Development of DNA Vaccines (Maedi-Visna and Sleeping Sickness)
Plasmid DNA structural studies
Recombinant protein expression and secretion
Frederico Ferreira
Stem cells and reactor design
Bioseparations and catalysis
Scale up/down and process integration

Researchers

 
Margarida Fonseca Rodrigues
Stem cell bioengineering
Catarina Madeira
Non-Viral Gene Delivery to Stem Cells

Luísa Caetano Davies

Neural Stem Cells and Biomaterials
Spin out companies
| | |
| --- | --- |
| Biotecnol | Co-founded in 1997 by former BERG members Pedro Pissara and Andrew Kelly, is a biotech company specially focused on the development of antibody-based therapeutics. Biotecnol's activities were initially set-up within BERG laboratories, the company has since moved to new facilities. |
| Biotrend | Co-founded in 2000 by BERG members Bruno Ferreira, Frederik van der Keulen and Pedro Fernandes, the core business of Biotrend is bioprocess engineering development. The company is specifically focused on the exploration of the opportunities provided by Nature's microbiodiversity, e.g production of beta-carotene using naturally occurring microorganisms. A number of staff members at the company have received training within the context of educational programmes supported by BERG research. The R&D activities of Biotrend are currently carried out within BERG facilities. |
| Bioteca | Co-founded in 2006 by former BERG member Gonçalo Cabrita, Bioteca is the first cryopreservation laboratory in Portugal dedicated to the the collection and conservation of stem-cells from the umbilical cord of newborns. Although Bioteca's activities were initially set-up within BERG laboratories, the company moved to new facilities in the first semester of 2007. |
| Aromase | Co-founded in 2007 by BERG members, Luis P. Fonseca, Dragana C. Barros and Verónica R. Martins, Aromase´s business concept was studied and developed at COHiTEC, a national program (Phase I) which aims to stimulate the creation of high-tech/ high-growth ventures from the knowledge generated in Portuguese Universities. Aromase develops alternative routes based on enzyme biocatalyst technology for the synthesis of a large variety of natural aromas from the ester family, especially fruit flavours, which find application in food, beverage and other flavoured products. |